Drake & Farrell becomes Allego's new logistics partner supporting their fast growth by establishing a future-proof forward supply-chain solution. Furthermore, potential circular business solutions will be unlocked throughout the entire value chain of Allego. 
ROTTERDAM, 18 January 2023 – Allego, the largest European independent EV charge-point operator, and Drake & Farrell, the leading sustainability solution provider for circular supply chains, announce a long-term partnership. Together, they will focus on adding value to Allego's forward supply chain in the short term, while further developing the reverse supply chain in the medium and long term. 
The partnership with Drake & Farrell will support Allego in their ambitions to reorganise their supply chain as a foundation for future growth. With sustainability remaining a top priority for Allego, Drake & Farrell will continue contributing to unlock additional potential for a constantly evolving circular supply chain. 
By adding Allego to its growing portfolio of strong partners, Drake & Farrell solidifies its leading position in creating future-proof sustainable supply chains for the E-Mobility market.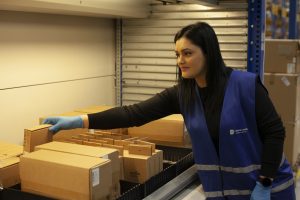 "For the past 10 years, Allego has built a pioneering reputation in the market for charging solutions across 16 European countries, and counting. With our partnership with Drake & Farrell we establish a future-proof and compliant supply chain necessary to realise our growth ambitions." — Mathieu Bonnet (CEO at Allego)
"We are incredibly proud to support Allego in their endeavours towards zero emission in mobility, which is perfectly aligned with our own purpose to reduce e-waste. Our fully compliant supply-chain solution enables Allego to realise their expected growth. The evolving focus on the added value to the reverse logistics and product circularity offers the opportunity to develop the partnership over time". — David Engel (CEO at Drake & Farrell)  
About Drake & Farrell 
Drake & Farrell actively revolutionises the way society deals with used electronical equipment. With a strong mission to eliminate electronical waste, Drake & Farrell aims to reuse almost 100% of the electronical products including its components and materials. Materials are recycled and made reusable whereas components are repaired or refurbished creating a circular supply chain. Drake & Farrell offers tailor made services unlocking the business opportunities of the circular supply chain for its clients. This includes specific reverse logistics, including organizing returns and functional screening, testing, repair and refurbishing, root cause analysis, re-kitting and (spare)parts sourcing. Drake & Farrell provides impactful ecological as well as economic results to clients in various industries such as telco, consumer electronics, healthcare and eMobility by supporting the transition from a linear to a circular compliant business model. As a result, Drake & Farrell actively enriches her client's business goals with sustainable focus. Drake & Farrell was founded in 2006 and has facilities in Bleiswijk, The Netherlands and Jindřichův Hradec, Czech Republic. 
Please refer to www.drakeandfarrell.com for more information. 
About Allego 
Allego delivers charging solutions for all types and models of electric vehicles, facilitating consumers, businesses, and urban infrastructures. A leader in charging solutions, we nurture and have built an international public charging network comprising of just under 40,000 public charge points, operational throughout the pan-European market. Our charging solutions are connected to the proprietary platform, EV-Cloud. At Allego, we are committed to providing independent, reliable, and safe charging solutions, agnostic of vehicle model or network affiliation. Being a pioneering company, we continually strive to make EV charging easier, more convenient, and more enjoyable for all. 
Allego in short: International public charging network – Established in 2013, listed on NYSE in 2022 – Active in 16 European countries – With almost 40,000 public charge points – Using 100% clean renewable energy – Enabling over 420 million green kilometers in 2021. 
Please refer to www.allego.eu for more information. 
Contact Allego:  
Christine Strik, Manager Corporate Branding & Communications 
E-mail: christine.strik@allego.eu (Dutch / English / French / German) 
Phone: +31 621 838 634 
Contact Drake & Farrell:  
Karel Eijkenaar, Business Development Manager  
E-mail: k.eijkenaar@drakeandfarrell.com (Dutch / English / German) 
Phone: +31 658 713 548 
Top image: David Engel (CEO Drake & Farrell) and Mathieu Bonnet (CEO Allego) pictured during signing