In the last ten years, Drake & Farrell has been the service provider for one of the leading telecommunications and IT provider and market leader in the Netherlands. Their mission is to connect the Netherlands securely and reliably with their futureproof networks and services. Their 2022 goal is to further reduce their energy consumption and raw materials.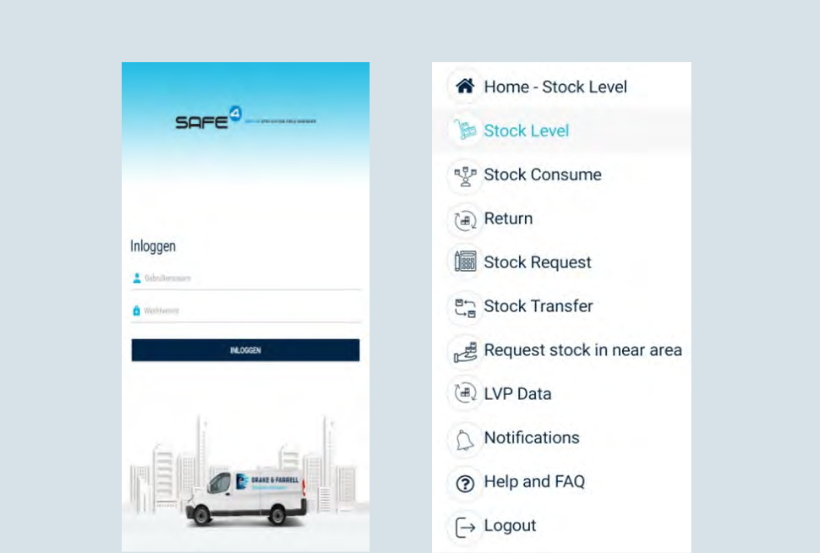 We contribute to their goal by providing efficient refurbishment activities and spare parts management.
Numerous challenges have risen to the telecom's spare parts business – lack of spare part stock visibility, shortages, loss, inventory stocking up, frozen investment due to excess inventory, unnecessary stock movements, inaccurate reporting, slow response to the end customer – all have major impact on making smart business decisions and lower Net Promoter Score (NPS).
In consultation with them to further optimise their spare parts supply, our Netherlands Research & Development team proactively proposed to develop an interactive app. The goal is to give service engineers on-line stock information and to perform essential tasks. Without the intervention of a back-office employee, they are able to:
Access full stock level and consumption details anywhere
Perform spare parts requests anytime
Make stock transfer with other service engineers up to 30km
Safe4App functionalities benefited the telecom client in cost reduction, increased productivity, full stock visibility, and less carbon emissions by eliminating unnecessary stock movements.
Quick service engineers' turnaround and response benefited on improving their customers' digital experience and satisfaction with a Net Promoter Score (NPS) of +16 in the consumer market.
Active and innovative value creation requires thinking outside of the box. We do not stop on fulfilment services, so let us take your product journey from A to Z together. Let's discuss yours over a cup of coffee.
Drake & Farrell
Snelliuslaan 13, 2665 PD Bleiswijk, The Netherlands
Phone: +31 088 8228 000
www.drakeandfarrell.com
Would you like to discuss returns solutions, forward logistics or value creation? We are happy to support you with your challenges and offer tailor-made partnerships.